2021 Breakfast and Scholarship Recipients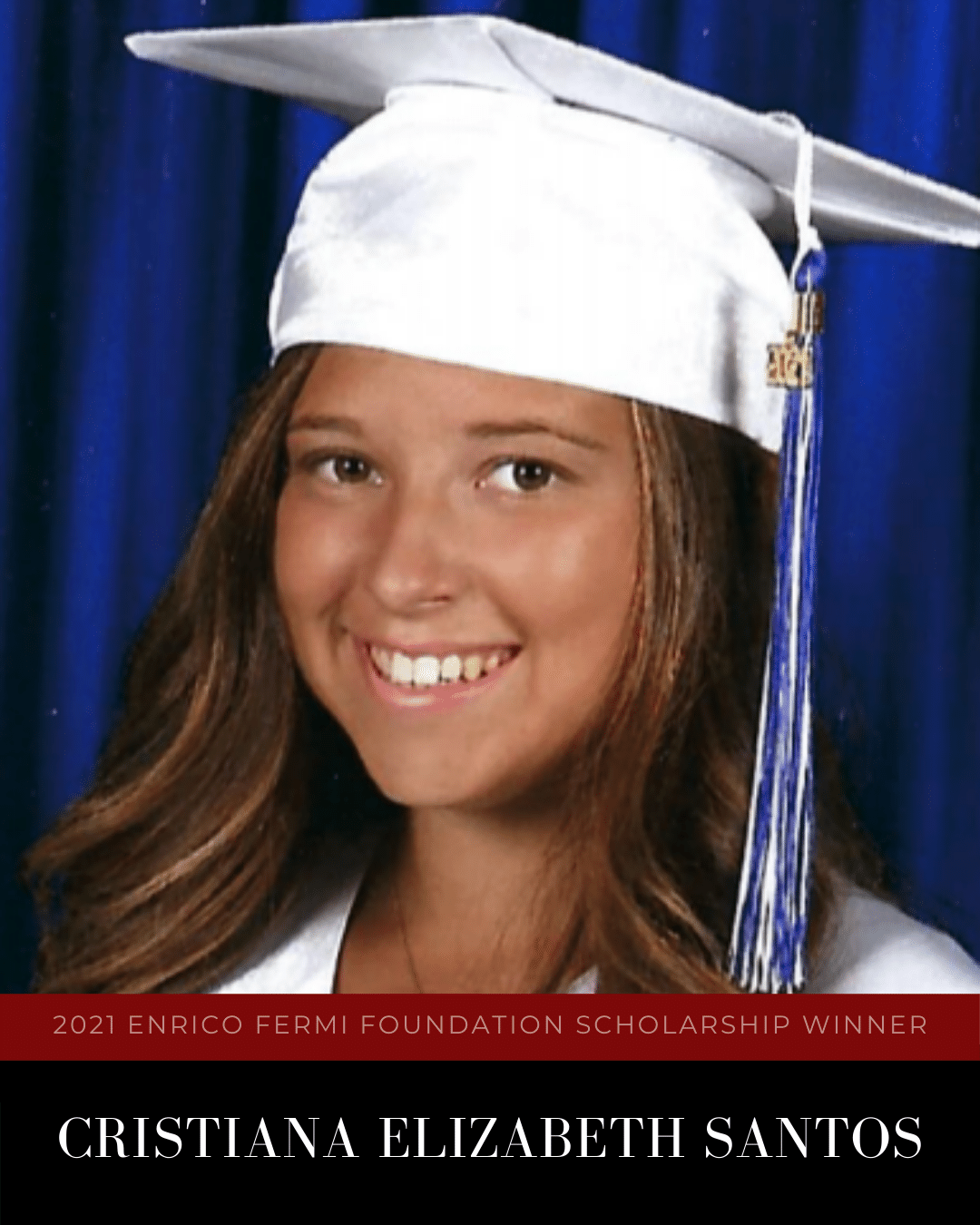 Cristiana Elizabeth Santos
The Thomas and Agnes Carvel Scholarship ($10,000) 
Cristiana Elizabeth Santos is a graduating senior from Maria Regina High  School. She is the daughter of Richard and Paula Santos. Cristiana has followed a rigorous course schedule which included seven Advanced  Placement courses and two dual enrollment classes in Anatomy and  
Physiology. Her SAT scores on the Reading, Writing, and Math sections were  near perfect. She is a member of the National Honor Society, the National  Italian Honor Society, the Tri-M Honor Society, and the New York State Science  
Honor Society. Cristiana maintains membership in the Student Council, Leaders for Humanity  (President), Mock Trial (Captain), Italian Club (Past President), Yearbook Club, and Scrubs Club. 
Cristiana is the founder and president of the Youth Leadership Council in conjunction with the  YWCA of White Plains and Central Westchester whose goal is to raise awareness about social  justice and to help teens to use their voices to inspire change. She participates in the Maria  Regina Choral Ensemble and has performed in competitions and concerts held at both Carnegie  Hall and Disney's EPCOT Center. Cristiana participated in a seven-month fundraising event for  the Leukemia and Lymphoma Society which raised over $10,000. She has been a varsity tennis  player for all four years of her high school career.  
Cristiana has extensive service to her community. Salient among them include Assistant CCD  teacher, Assistant Italian Teacher for 4-6 year olds at the Westchester Italian Cultural Arts  Center, and at the Answer to Cancer Wall at the White Plains Hospital. Cristiana has been  recognized with several awards including AP Scholar with Honor, Bronze Medal in the AATI test,  Principal's list for every quarter in high school, and recipient of the ASTC Coaches award.  
Cristiana credits her success to the influence of her Italian heritage by stressing the importance  of education. She writes in her essay, "My grandparents defied the odds, and frankly the  stereotypes of Italian immigrants solely being uneducated laborers, in not only receiving a  formal education in this country but also becoming educators themselves."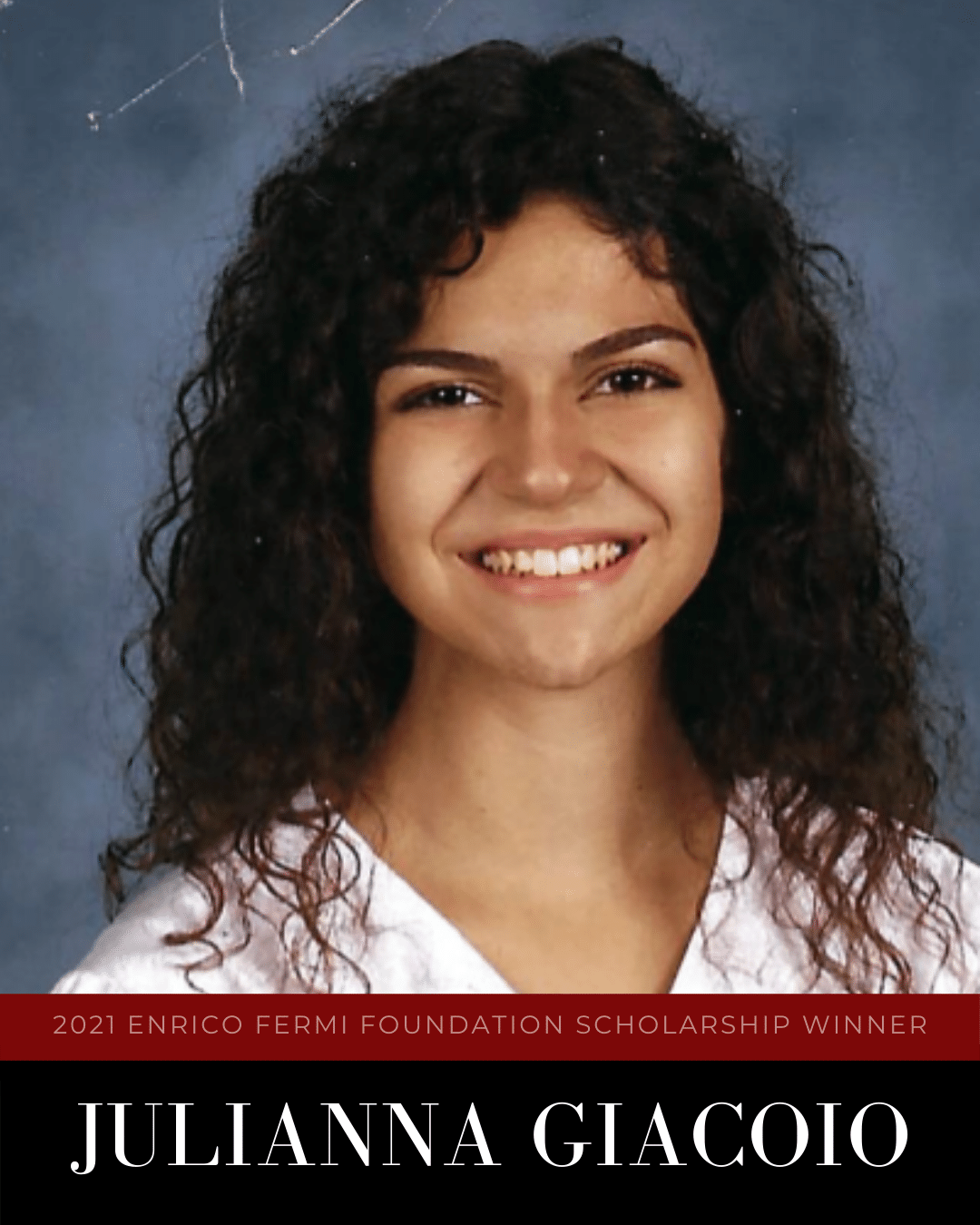 Fermi Scholarship in Memory of John N. Romano, Esq. ($5,000) 
Julianna Giacoio is a graduating senior from Maria Regina High School. She is  the daughter of Frank and Lisa Giacoio. Julianna has challenged herself  
throughout her high school career. To date, she has taken seven AP courses,  several Honors courses, and two foreign languages. She prestigiously holds the  title of AP Scholar with Honor along with membership in the National Honor  Society, the NYS Science Honor Society, and the National Art Honor Society.  Julianna has been on the Principal's List for all four years of high school. She has  
been recognized with several awards including the Bronze Medal in the National Italian  Examination, Third Prize in the Gilda's Club Essay Contest and First Prize in the Mamaroneck  Artists' Guild Art Show.  
Her impressive scholastic accomplishments mirror her civic pursuits. Julianna is very active in  her school and local community. She raises funds for several non-profit organizations through  event participation and contributing to social justice awareness. These include St. Peter's Food  Drive, The We Care Fundraiser, and the Crutches for Kids Organization.  
Julianna states, "my grandparents have shown me the value of selflessness, which I hope to  embody through community service and a future career as a physician to help others live  happier and healthier lives." Julianna also finds time for athletics, being on the track and cross  country team as well as chorale ensemble. Her Director of College Placement expressed "no  doubt that this spirited, intelligent go-getter will become well accomplished in her future  academic and professional endeavors."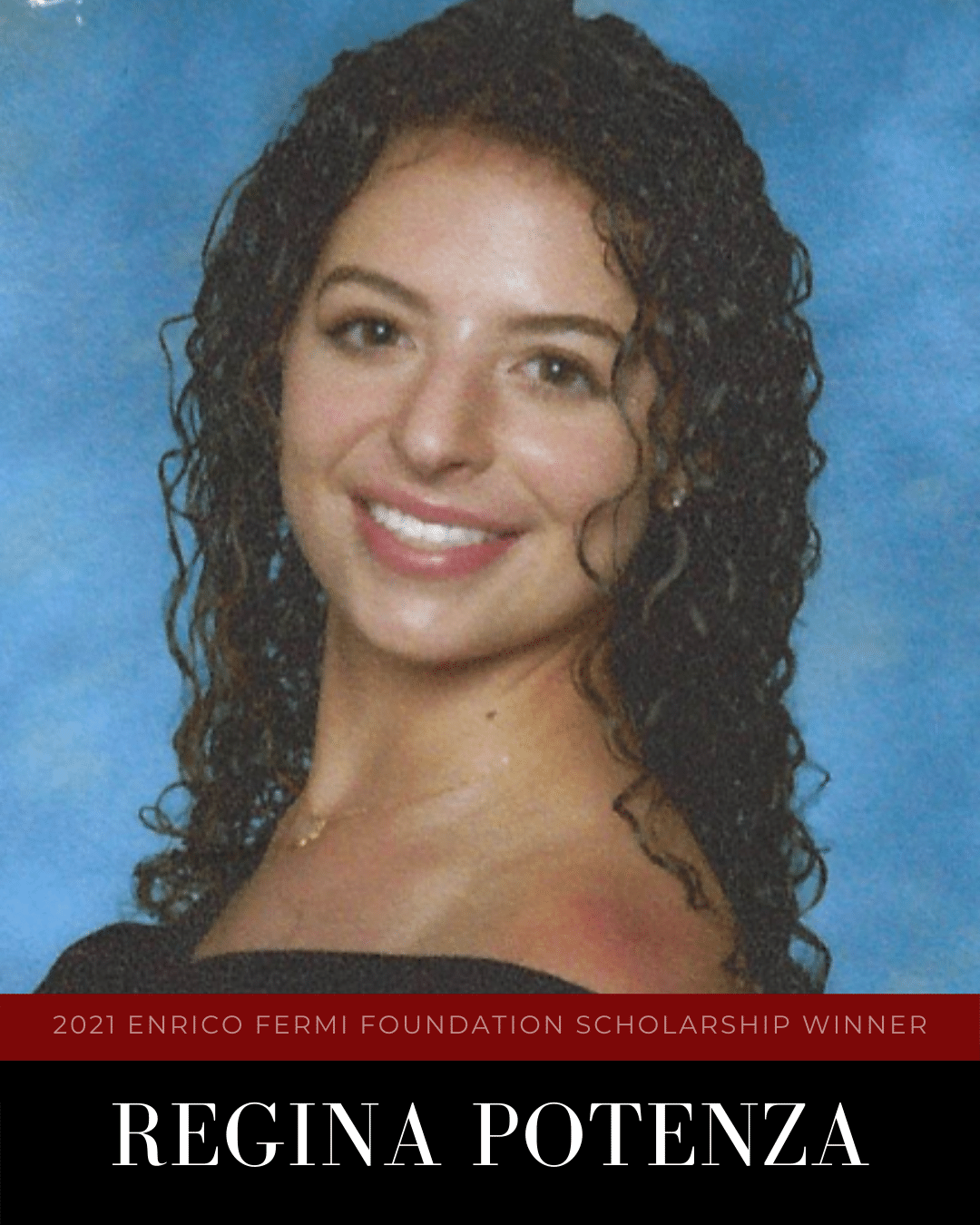 Fermi Scholarship in Memory of Henry J. Monaco ($5,000) 
Regina Potenza is a graduating senior from the Loyola School. She is the  daughter of Michael and Mary Potenza. Regina's academic record is replete  with AP and Honors courses. She has earned the distinction of AP Scholar,  First Honor Roll achievement, as well as Bronze medalist on the National  Spanish Exam and the recipient of the Platinum ACT Career Readiness  
Certificate. Regina has also chosen to spend time engaging in activities that  contribute to the welfare of others. She is a peer leader and a peer tutor for  her school as well as tutor for a local elementary school.  
Additionally, Regina helped a community in Paraguay by building a basketball court and  teaching those students how to play. She has also served in various leadership positions within  several school clubs. Regina is also an athlete, serving as captain of the varsity volleyball and  basketball teams and member of the softball team for Loyola and captain of the golf and swim  team at a local golf club. In her work experience, not only is Regina a lifeguard but she became  the first female caddy at a local golf course. Her outstanding resume reflects the wisdom that  has been imparted to her.  
Regina states, "My grandparents, as well as my parents, have taught me that nothing in life is  handed to you. If you want something in life, you have to go after it and work for it." Her  college counselors have seen this sentiment in action and remarked, "She has been one of the  most active members of our community these past three years and our school is a better place  because of her presence."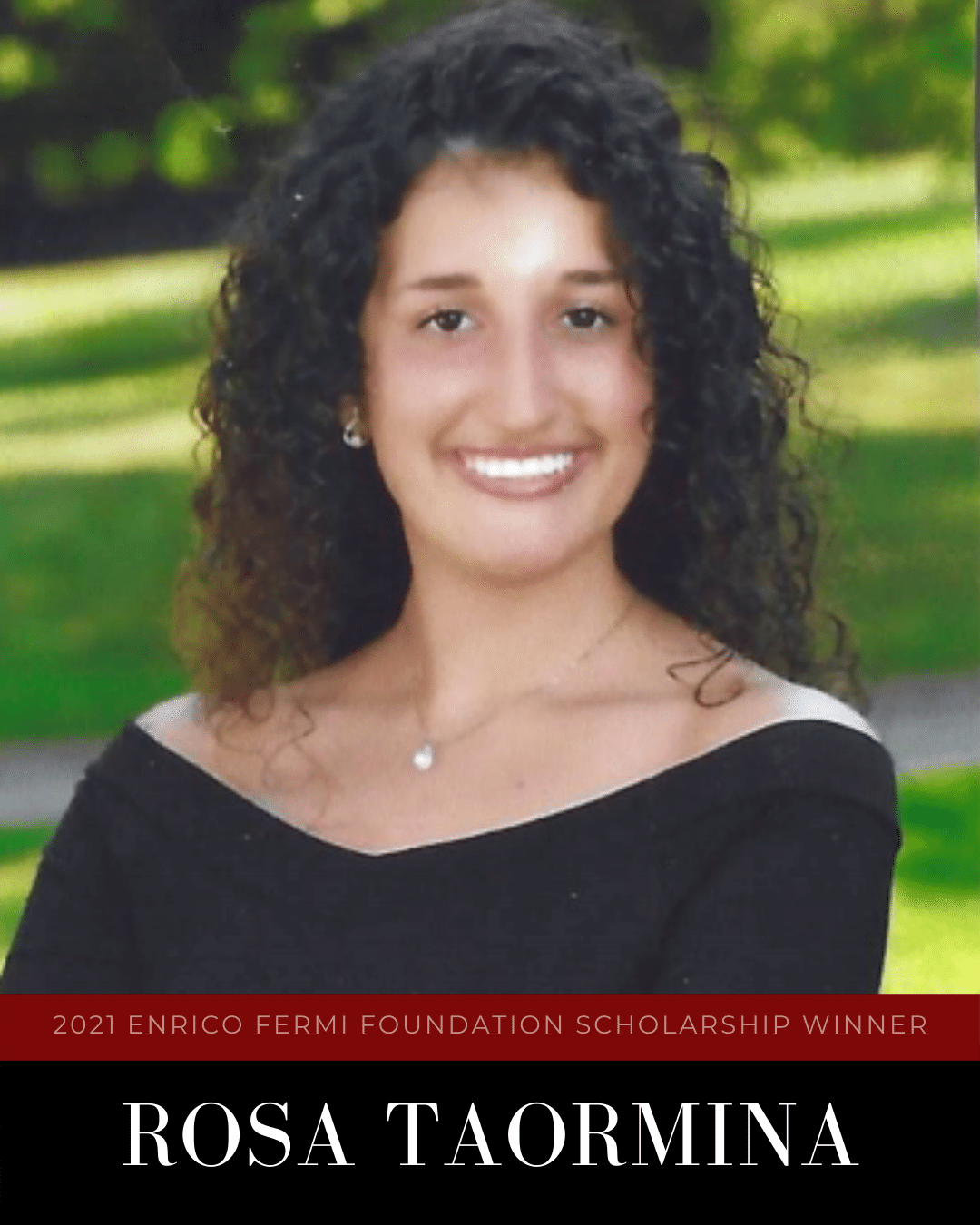 Fermi Scholarship ($5,000) 
Rosa Taormina is a graduating senior from The Ursuline School. She is the  daughter of Maurizio and Anna Maria Taormina. Rosa has maintained a  rigorous course load throughout her time at Ursuline. She has taken six 
challenging AP Courses in combination with several Honors classes. She has  achieved the designation of AP Scholar as well as membership in the Junior  National Honor Society and the National Honor Society. Rosa was also bestowed  the title of NYS Scholar Athlete.  
In addition to her scholastic pursuits, she has numerous hours of community service that  benefit her school and the larger community. Peer Leadership (Senior Peer Leader), Campus  Ministry, Student Council, the Italian Club (President) and the Medical Club are among some of  the activities in which she engages. Rosa has been active in fundraising for her school as well as  fundraising and organizational efforts at local hospitals and other non-profit organizations.  Additionally, Rosa is a Senior Dancer with a local dance company and runs track. She also  carves out some time to work as an office assistant. Of such an outstanding young woman, her  Italian teacher wrote, "If you are seeking a bright, inquisitive, motivated, responsible and  conscientious worker, she is an excellent choice."  
Rosa herself integrates all of her experiences by stating, "My goal is to be a role model for those  that will come after me and to commemorate the ones that struggled before. I want my life's  work, derived from my wonderful Italian heritage, to inspire and empower others."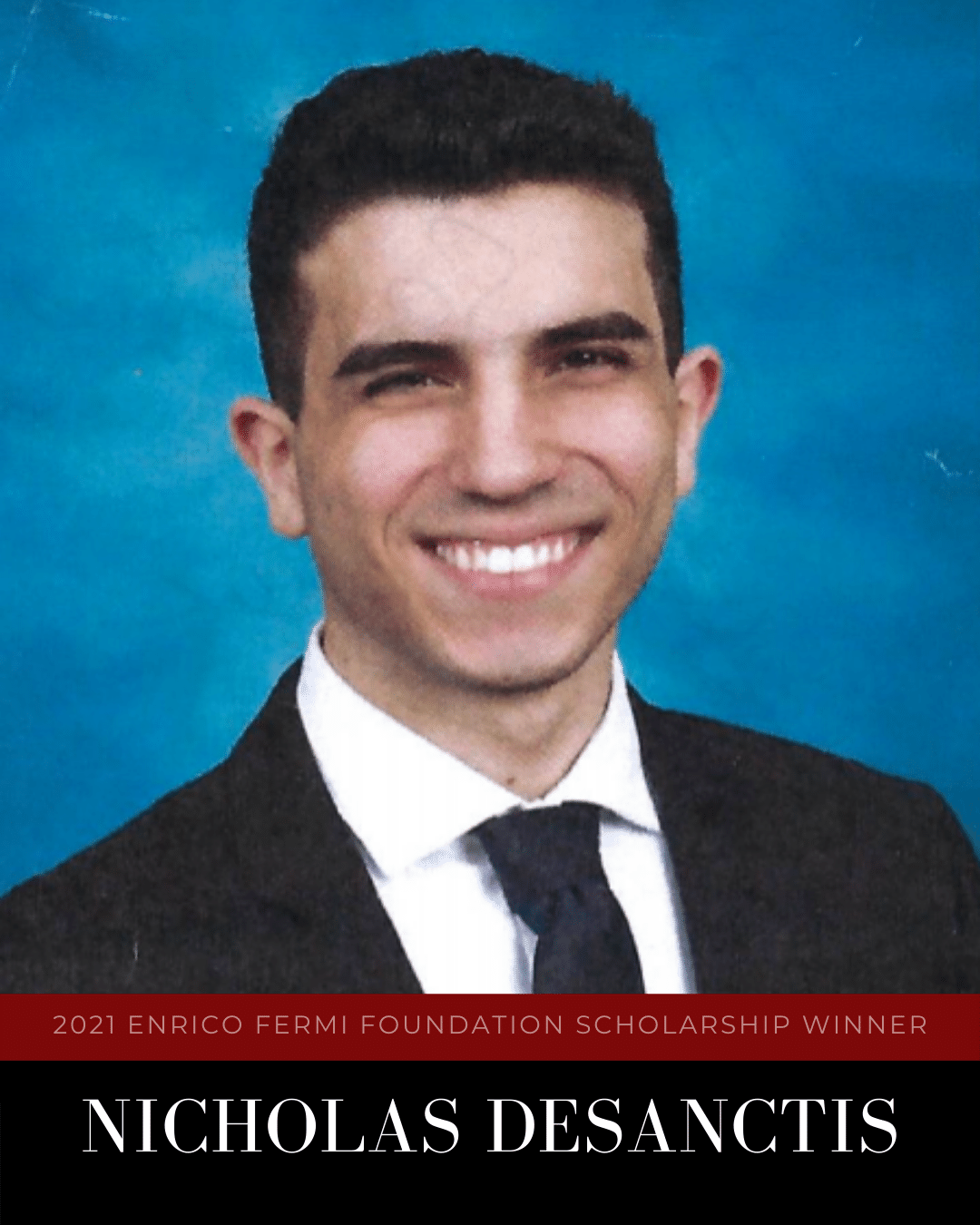 Fermi Countywide Science Scholarship ($5,000) 
Nicholas DeSanctis is graduating senior from Stepinac High School. He is the  son of Joseph and Lenora DeSanctis. Throughout his high school career,  Nicholas has been enrolled in honors classes and has undertaken a rigorous  college preparatory program which includes being a student in the honors  academy which accepts only the top ranked students in mathematics and  science. He is a National Merit Scholarship finalist, an AP Scholar with  
Distinction, and holds membership in the National Honor Society, The Mu  Alpha Theta Math Honor Society, and The English National Honor Society. 
Last summer, Nicholas participated in Harvard University's pre-college program earning eight  Harvard credits. This year he is enrolled in two advanced mathematics courses at Johns Hopkins University. He has also taken five Advanced Placement courses. In addition to his  academic roster, Nicholas strives to maintain an extracurricular portfolio. During the  quarantine period, he offered his tutoring services for free, via Zoom, and tutored a large  number of students from all over the country. Nicholas is a starring member of the drama club  and has had several leading and supporting roles in the nationally acclaimed drama program.  Nicholas has been involved in many fundraising activities including Reigning Cats and Dogs and  The Souper Bowl, collecting over ten thousand canned goods. 
Nicholas states in his essay that his entire life was shaped by his Italian ancestry. "Faith,  curiosity, service to others, work ethic, and tradition were all passed down to me from my  grandparents."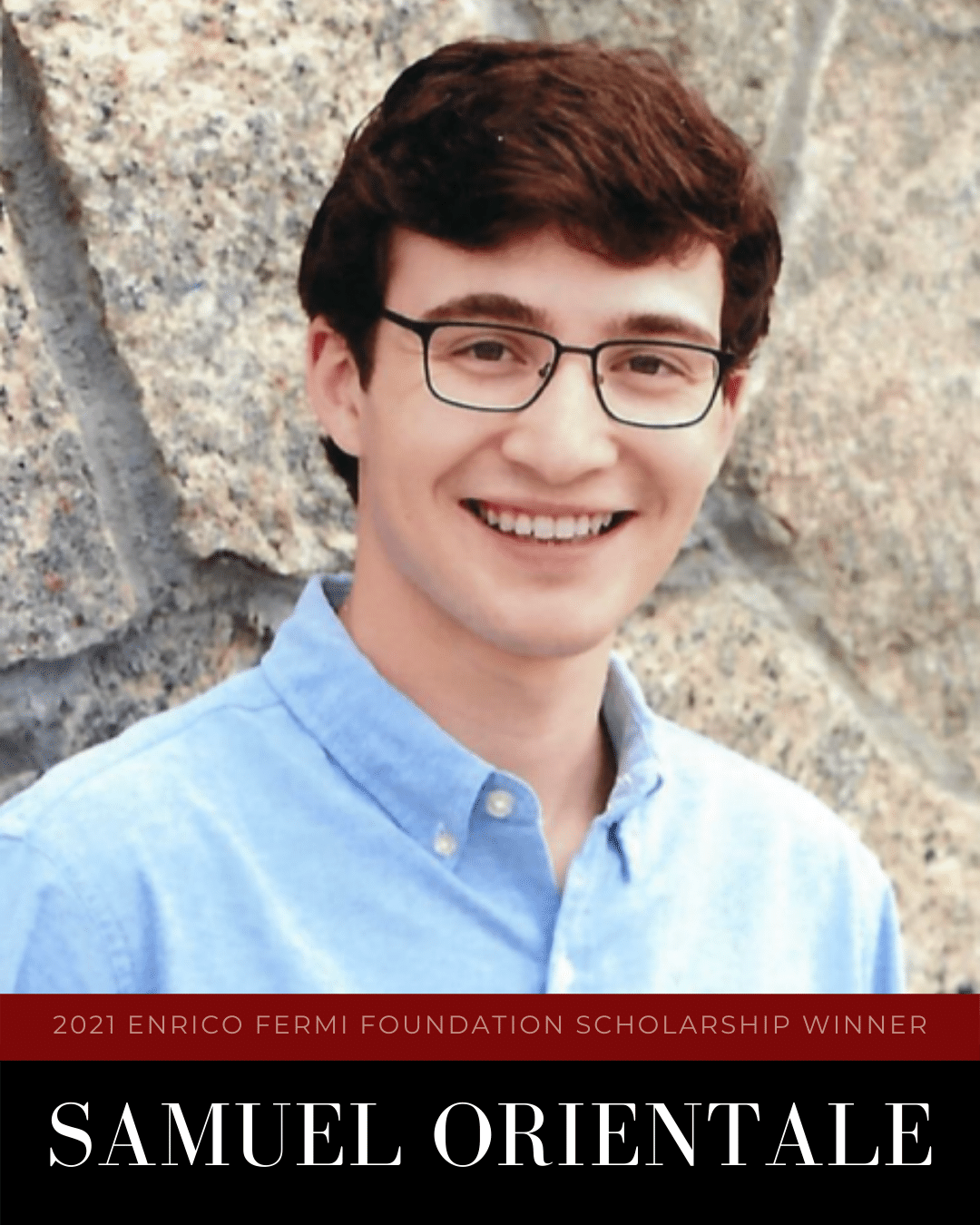 Fermi Countywide Scholarship ($5,000) 
Samuel Orientale is a graduating senior from Briarcliff High School. He is the  son of Michael and Anna Orientale. Samuel has been enrolled in a most  challenging curriculum at his high school. He has completed six NYS Regents  Exams and eight Advanced Placement courses. He achieved a near perfect  score on the ACT.  
Sam has been involved with the Boy Scouts since 5th grade achieving the  highest rank of Eagle Scout. After visiting St. Jude Children's Research Hospital, he decided that  the patients needed something uplifting during their long stays while receiving treatment. He  created program called "Take Flight" based on an original story of a family of balloons who  represent positive qualities while on a magical journey. He wrote a second edition, turned it  into a coloring book and translated it into Spanish. 
Samuel has a deep interest in the planetary sciences and has worked with Dr. Catherine Elder at  NASA's Jet Propulsion Lab at the California Institute of Technology. He has hopes of publishing  his research in a scientific journal soon.  
Samuel is a member of the National Honor Society, The Rho Kappa Honor Society, The National  Art Honor Society, The Yale Young Global Scholars and is the recipient of the Hugh O'Brian  Youth Leadership Award, and the Planetary Science Award at the Science Research Fair. 
Sam states that there is no question that his life has been influenced by his Italian heritage. He  remarks in his essay, "With pioneers such as Marconi, Avogadro, Volta, daVinci, Schiapparelli,  and of course, Fermi… the connection I feel to my Italian forefathers in the area of science is  unparalleled."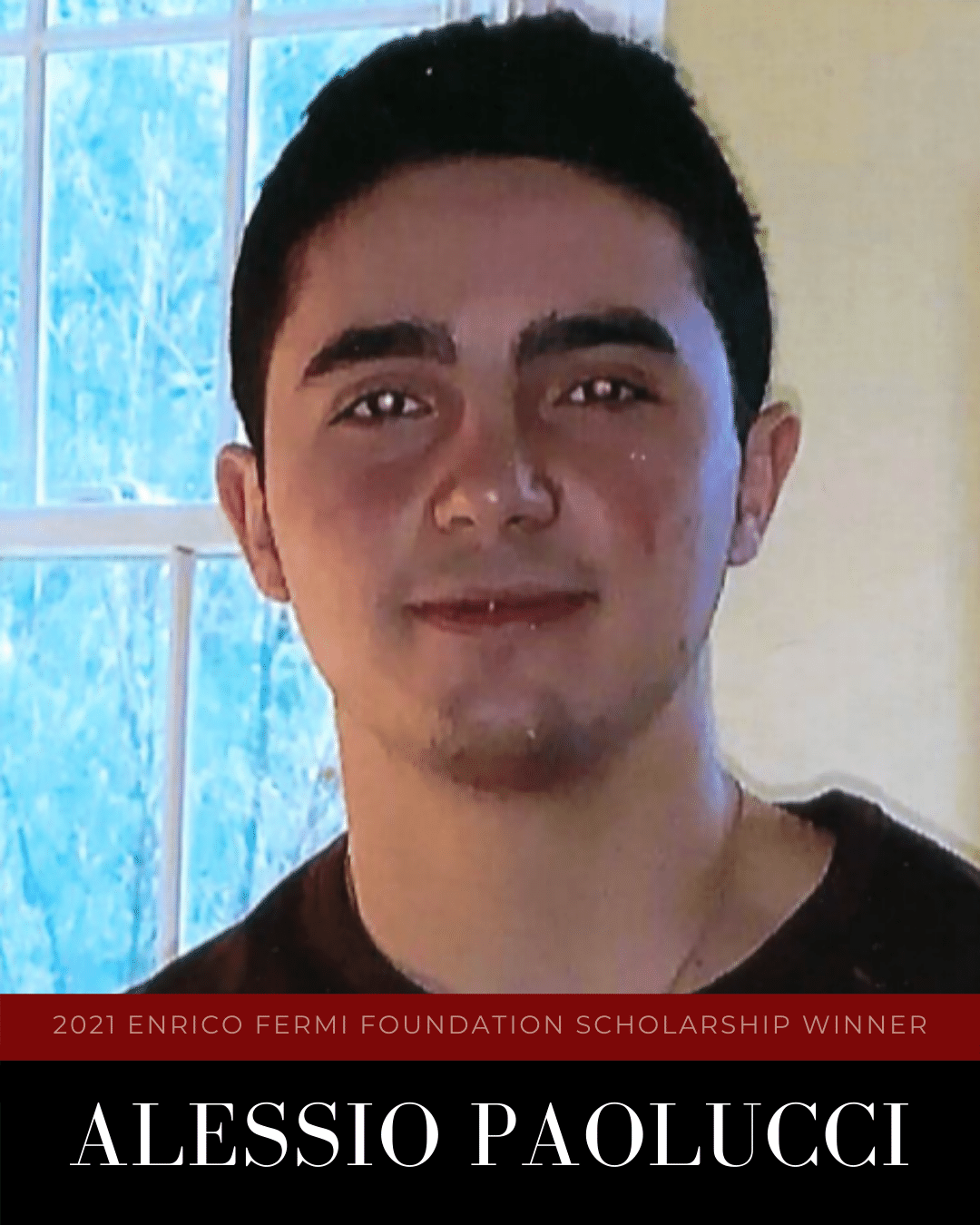 Fermi Countywide Scholarship ($5,000) 
Alessio Paolucci is a graduating senior from Edgemont High School. He is the  son of Michele and Francene Paolucci. Attaining a near perfect score on the  SAT and ACT, his demanding high school coursework includes six AP courses  and numerous honors classes.  
Alessio has also succeeded on the athletic field. He is a member of the baseball  and soccer teams, was designated MVP of the soccer team in 2018, and was  named captain of the varsity baseball team in both his junior and senior year. His  accomplishments in the classroom and on the field are paralleled with his extensive community  service. Alessio has organized numerous Midnight Runs, and organized a service to assist the  elderly in shoveling snow, escorting them to church services, and doing their grocery shopping.  Using his baseball acumen, he was a member of The Miracle League which helps kids with  disabilities play baseball. 
Alessio is the founder and president of the Wounded Warriors Club. He conducted numerous  fundraisers to support the Wounded Warriors Project, a national program, which provides  housing, home supplies and programs for our veterans. As an elected student government  official for all four years, he worked closely with the administration to improve the overall  school environment. Alessio was also selected to participate in the Fordham University's  Business Insider Program to gain an overall understanding of the business field. 
In his essay, Alessio describes his many visits to and experiences in Italy. He definitively states,  "I have come to realize that these authentic experiences have not only helped shape me into  the globally diverse person I am, but will accompany me to my new college community as well."
Elena Lalli Coronado is an Assistant U.S Attorney in the District of Connecticut. As a federal prosecutor, Ms. Coronado is responsible for investigating and prosecuting criminal activity, including violent crimes, narcotics trafficking, bank robberies, fraud and white collar crime, environmental crime, cybercrime, and crimes against children. Prior to joining the U.S. Attorney's Office, Ms. Coronado was a litigator at Sullivan & Cromwell, the New York law firm, where she represented multinational corporations, financial institutions, and foreign and domestic individual clients in civil litigation, government investigations and prosecutions.  She previously served as a law clerk to Judge Naomi Reice Buchwald of the U.S. District Court for the Southern District of New York and Judge Jose A. Cabranes of the U.S. Court of Appeals for the Second Circuit.  Ms. Coronado graduated cum laude from Harvard College in 2006 and graduated cum laude from Harvard Law School in 2010.  In 2002, as a senior at Edgemont High School, Ms. Coronado was a recipient of a scholarship from the Enrico Fermi Educational Fund.
Ms. Coronado's maternal great-grandparents emigrated to the United States in the late 1800s from outside of Naples, Italy and her paternal grandparents emigrated here after WWII from the Abruzzo region of Italy.  Ms. Coronado grew up in Westchester, New York and now lives in Connecticut with her husband Guillermo and their toddler and baby.