2022 Breakfast and Scholarship Recipients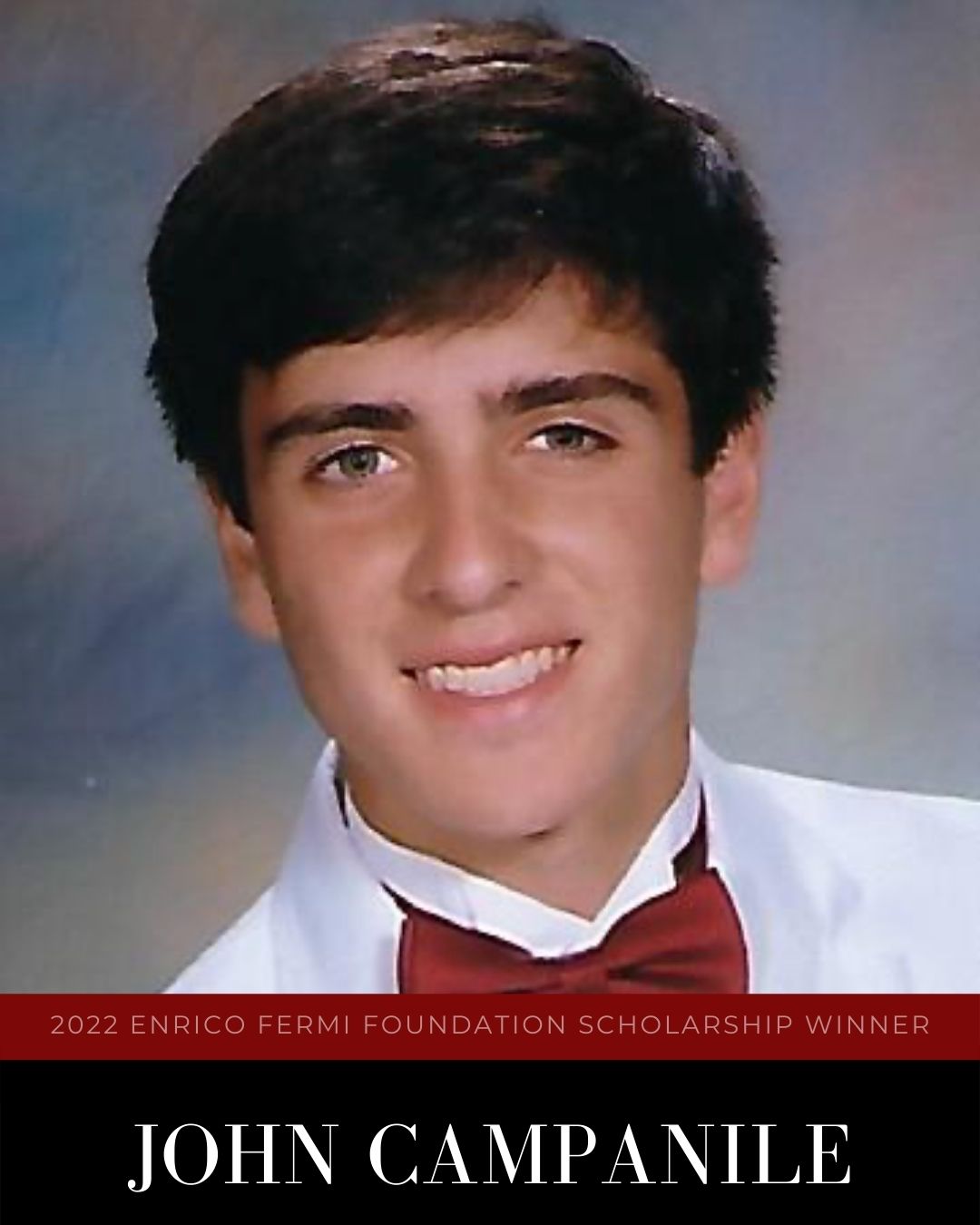 John Campanile is a graduating senior from Fordham Preparatory School. He is the son of Guy and Susan Campanile. John, an AP Scholar and a member of the National Honor Society and the Italian National Honor Society, is an outstanding student-athlete. He strives for excellence in all his pursuits and is never satisfied with mediocrity. John's intelligence is supported by an admirable work ethic, whether it be in the classroom or on the field playing soccer or rugby. He has been called "a man for others" who often places the needs of his peers above his own. John has participated in activities for Habitat for Humanity, P.O.T.S. (Part of the Solution), Campus Ministry, and Annunciation Church. He enjoys being part of the Student Life Committee, the Aviation Club, and the Italian Club. Inspired by his grandfather, John has tried to shape his goals, including becoming a mechanical engineer, around a passion and not an occupation.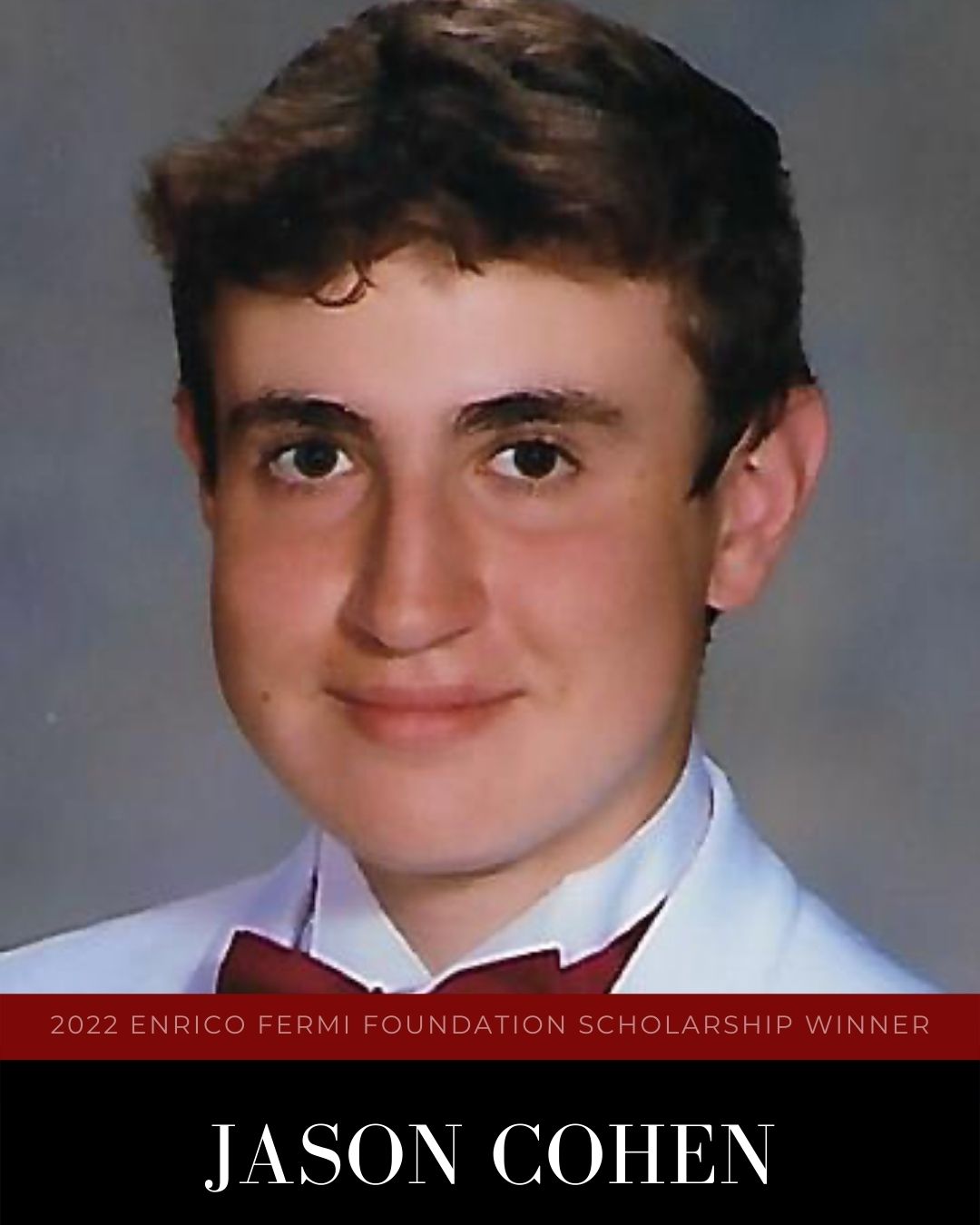 Jason Cohen is a graduating senior from Fordham Preparatory School. He is the son of Andy and Donna Cohen. Jason, an AP Scholar, a National Honor Society Member, and an Italian National Honor Society Member, is a person of great depth, both intellectually and spiritually. He inspires others with the calm, serene way he lives his life and treats other people. He is very open to learning new things. Jason is remarkably kind and considerate with a real passion for building a more just world. He is a regular volunteer at P.O.T.S. (Part of the Solution} and has gone to Tennessee with Appalachia Habitat for Humanity. He embraces his heritage and is very proud of his Italian roots. He has a true love for all things Italian. Like the making of Italian food and baked goods that helped his family to celebrate every single holiday, Jason's life tends to follow a mapped-out and clear path. No doubt, it must sometimes veer from the original course, but so does a good pasta gravy. Jason plans to study psychology, mathematics, and statistics.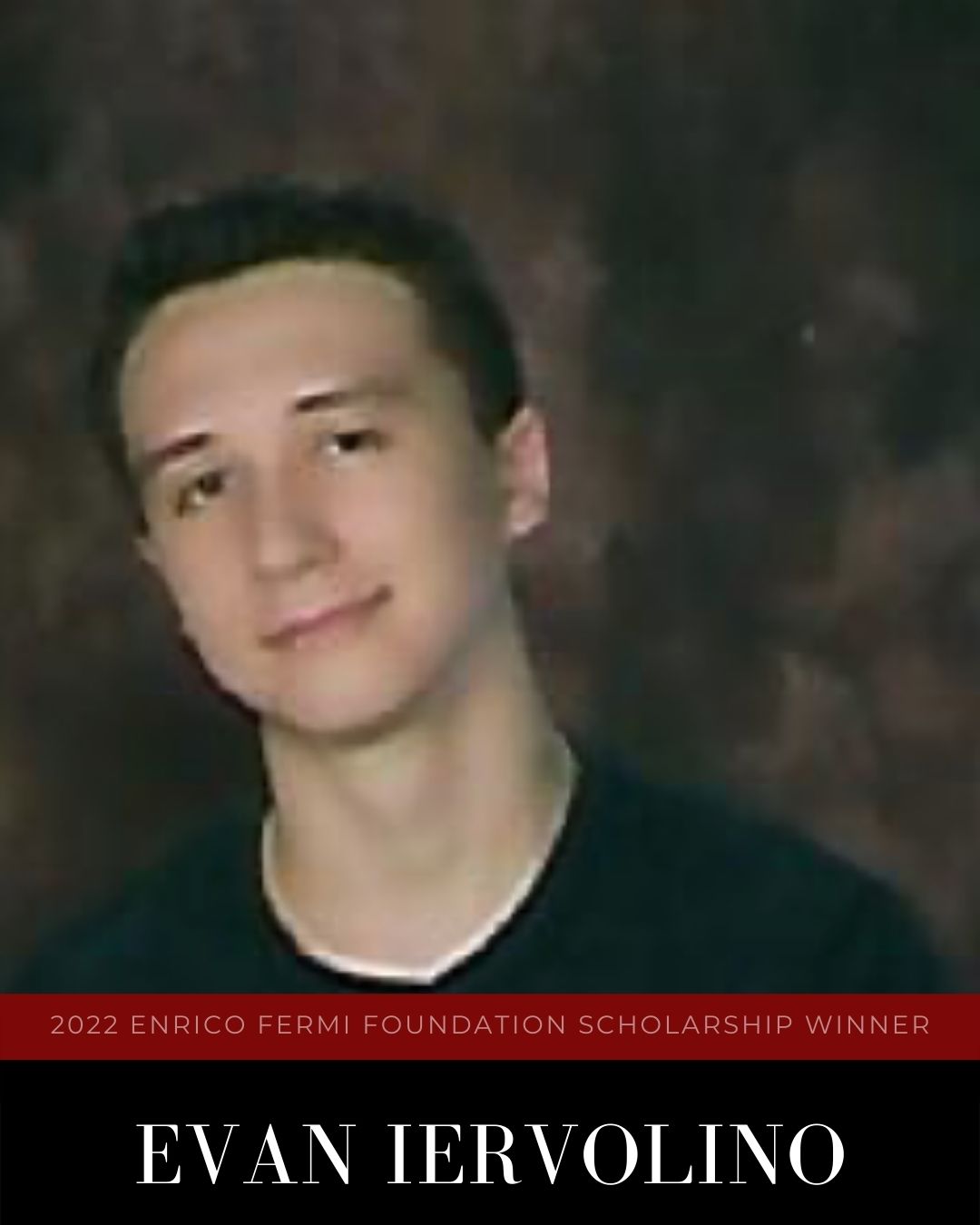 Evan Iervolino is a graduate of Montfort Academy. He is the son of Stephen and Jennifer Iervolino. A member of Mensa International from an early age, Evan is encyclopedic with a recall similar to an internet search engine. Yet, he is very human, and his wonder and awe are pure and endless. Evan makes and understands deep connections between disciplines. He is equally comfortable speaking in classical Latin and ancient Greek as he is tackling complex matters like the probability of extra-terrestrial life. He is a young man of uncommon character, who gives of himself constantly without asking anything at all in return. Evan uses his intellectual gifts and force of his spirit to bring joy, compassion, and learning to others. His Eagle Scout Project was a multi-year journey that showed his extraordinary commitment to achieving his goals. Inspired by his love of astronomy and his Italian heritage, Evan wishes to pursue a career as an astronomer like Galileo Galilei.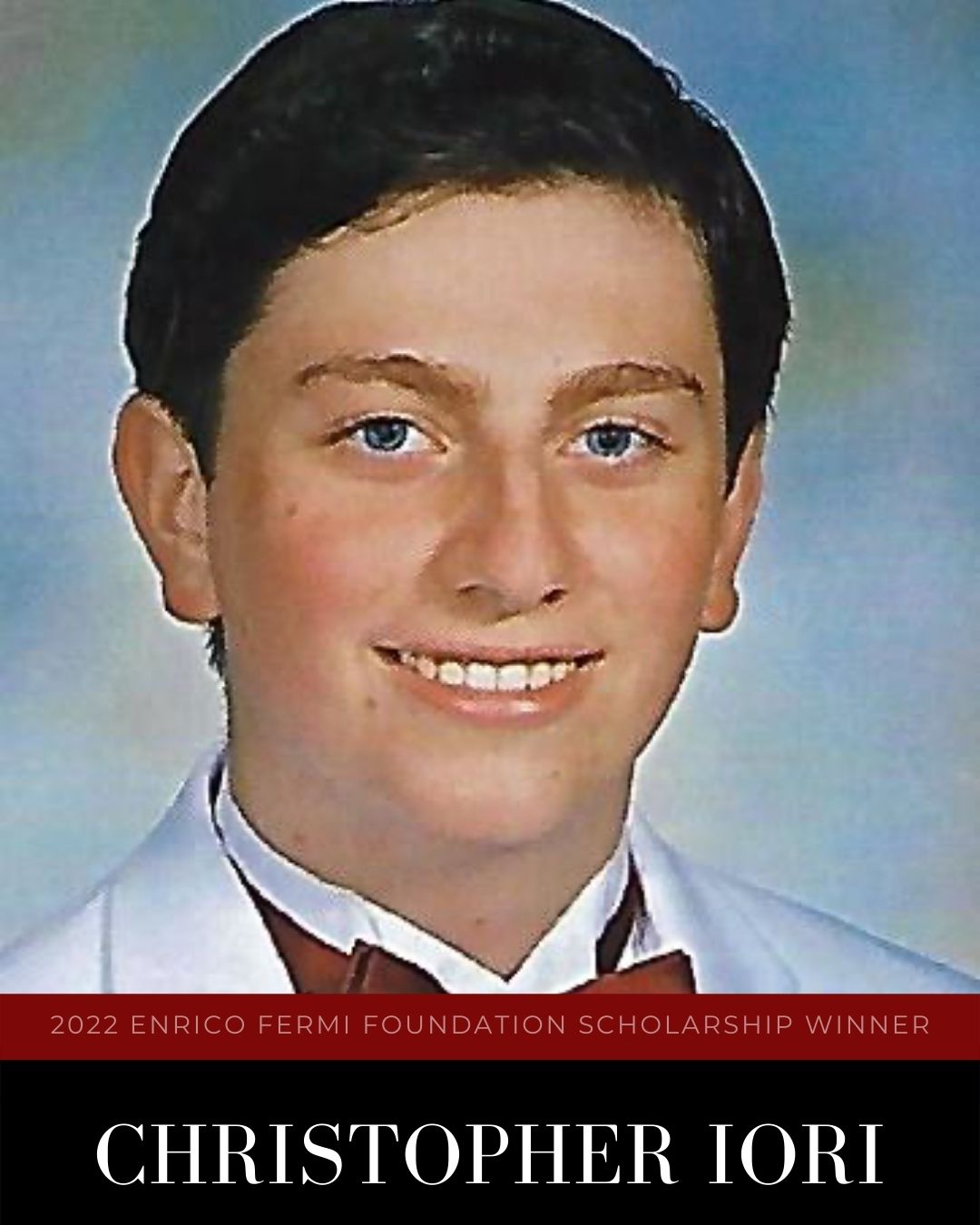 Christopher Iori is a graduating senior from Fordham Preparatory School. He is the son of Bruno and Lorena Iori. Christopher is a well-rounded, good-natured, and diligent student. This bright young man is an AP Scholar, a member of the National Honor Society, and a member of the Italian National Honor Society. Christopher is very interested in learning not just the language, but the culture of Italy as well. Coinciding with his Italian heritage, Christopher's family members have instilled in him the values of community, religion, and hard work. He has merged these three when creating his Eagle Scout Project. He is constructing a prayer garden at Annunciation-Our Lady of Fatima Parish honoring two Italian saints – St. Padre Pio and St. Francis of Assisi. His goal is to create an area where community members can pray in honor of their loved ones. Christopher plans on continuing this work ethic in college enabling him to pursue a career in electrical and computer engineering.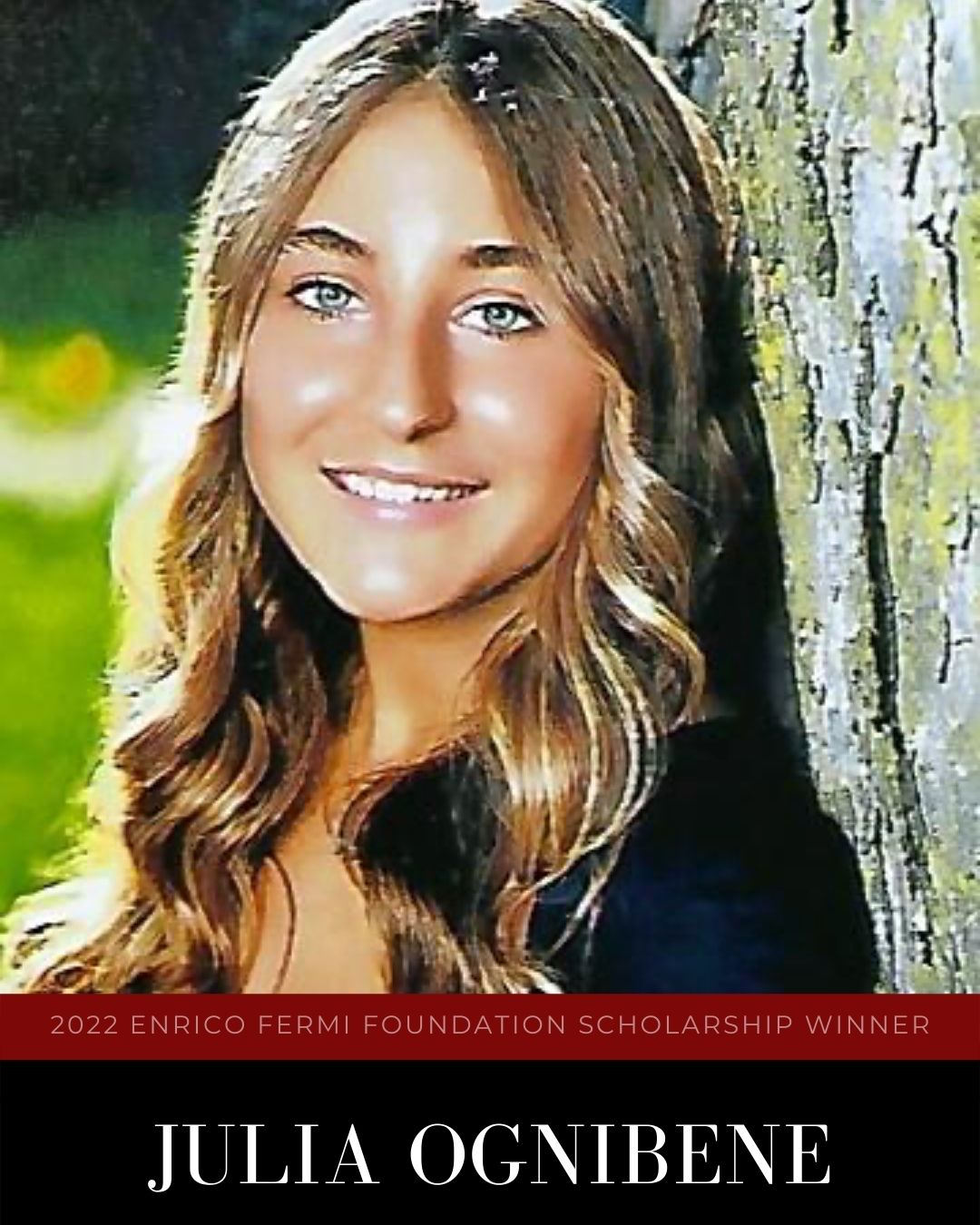 Julia Ognibene is a graduating senior from The Ursuline School. She is the daughter of Vincent and Maria Ognibene. Julia's choice of science as a career was largely influenced by her Italian heritage. Pursuing a career in medicine has long been an aspiration of hers. She has constantly maintained an interest in neurology and is fascinated by the complexities of the brain. By entering the field of neurology/neuroscience, Julia hopes to continue the legacies of her parents and grandparents in terms of hard work and tenacity. With outstanding SAT and AP Exam scores, Julia has found the time to engage in varied outreach and service activities and has earned the Girl Scout Gold Award. She has also done work with therapeutic horsemanship and has conducted research on opioid addiction and childhood trauma. Ognibene loosely translates to "all good things" or "everything is good" and that has challenged Julia to radiate goodness to the world.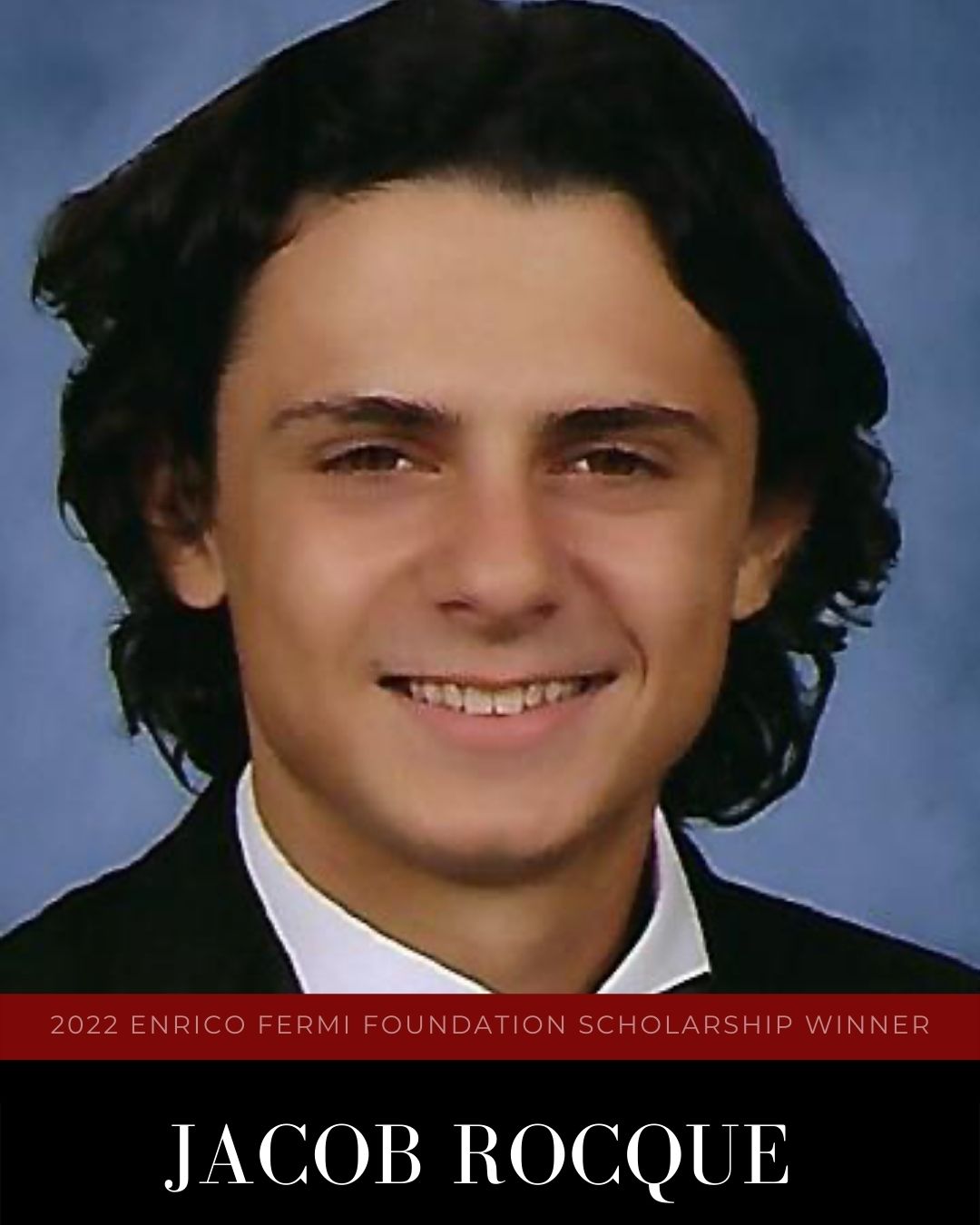 Jacob Rocque is a graduating senior from Archbishop Stepinac High School. He is the son of Robert and Jean Marie Rocque. Jacob has a unique combination of intellect, talent, creativity, and drive that enables him to excel in many areas. He is an AP Scholar with membership in the National Honor Society, the English National Honor Society, the Science National Honor Society, the Mathematics National Honor Society, the Latin National Honor Society, and the Social Studies National Honor Society. As a high caliber pupil, Jacob has taken part in a rigorous college preparatory program which includes being a student in the Finance and Economics Honors Academy. His enthusiasm and dedication to his school and community are evidenced by numerous service projects and volunteer efforts. Jacob has tutored his peers, participated in Model UN Week of Action, been an altar server, and competed in Worldstrides. Track, lacrosse, basketball, and music are some of Jacob's other interests. His family is a critical part of his life, and a major part of his identity comes from his Italian heritage. Jacob plans on pursuing a career as an economist/anthropologist.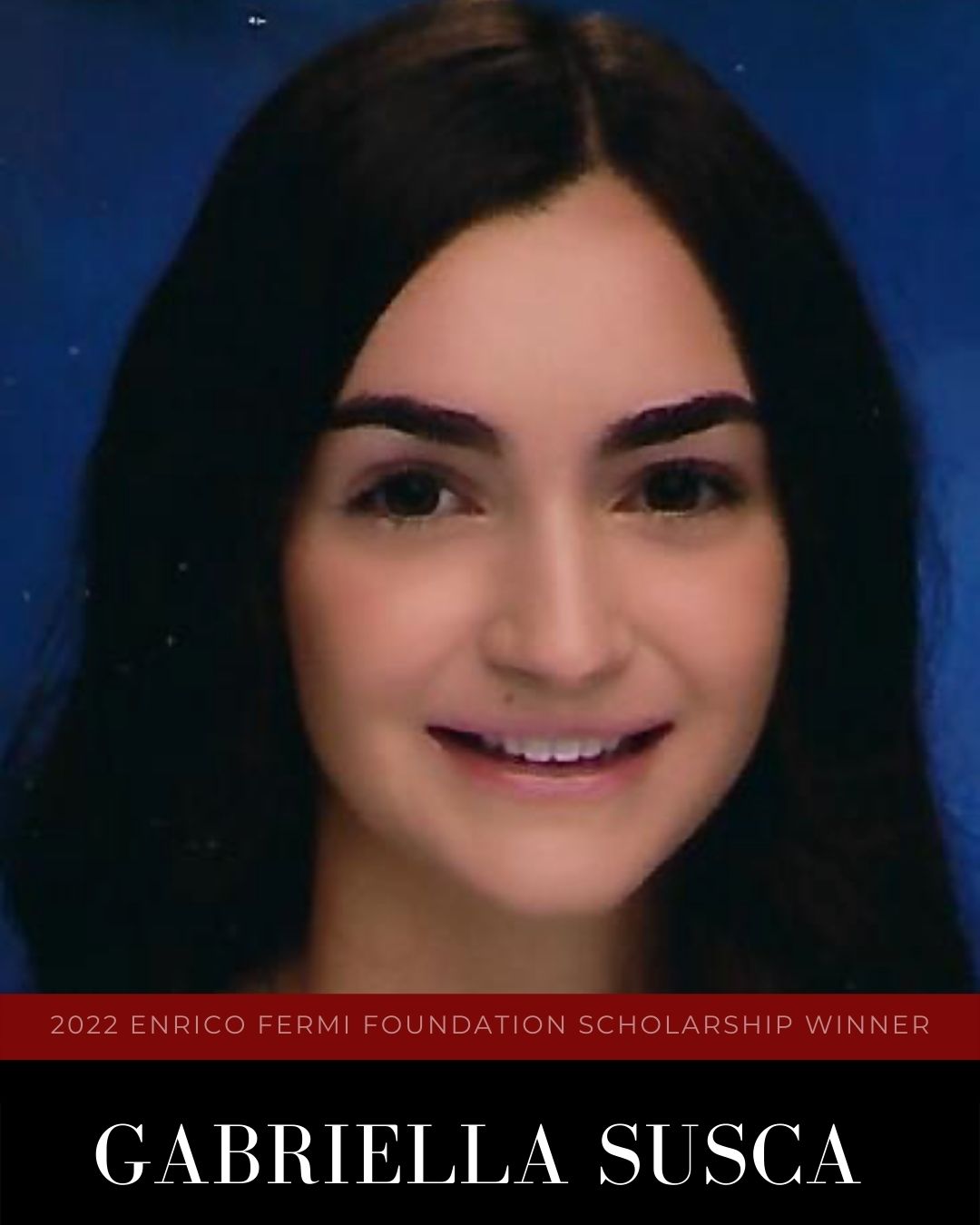 Gabriella Susca is a graduating senior from Somers Senior High School. She is the daughter of Vito and Dawn Susca. Gabriella is an AP Scholar and a member of the National Honor Society, the Italian National Honor Society, and the Mathematics National Honor Society. She is an extremely intelligent and diligent student with a very strong work ethic. Gabriella won the Wellesley College Book Award, the 2021 STEM Empowering Women Scholarship from Cognitive Consulting, and the WESEF 2021 Innovations and Biological Science Research Award. Gabriella is a member of the Biomedical Club and the secretary of the Cancer Research Club at her school. This well-rounded young woman is a YMCA teen leader, a sprinter on the winter and spring track team, and a dance student. The most important value in her life is the value of family, and in Italian society, family is the center of everything. Gabriella can't wait to continue to honor her Italian heritage throughout college and give back to the community in her career as an oncologist.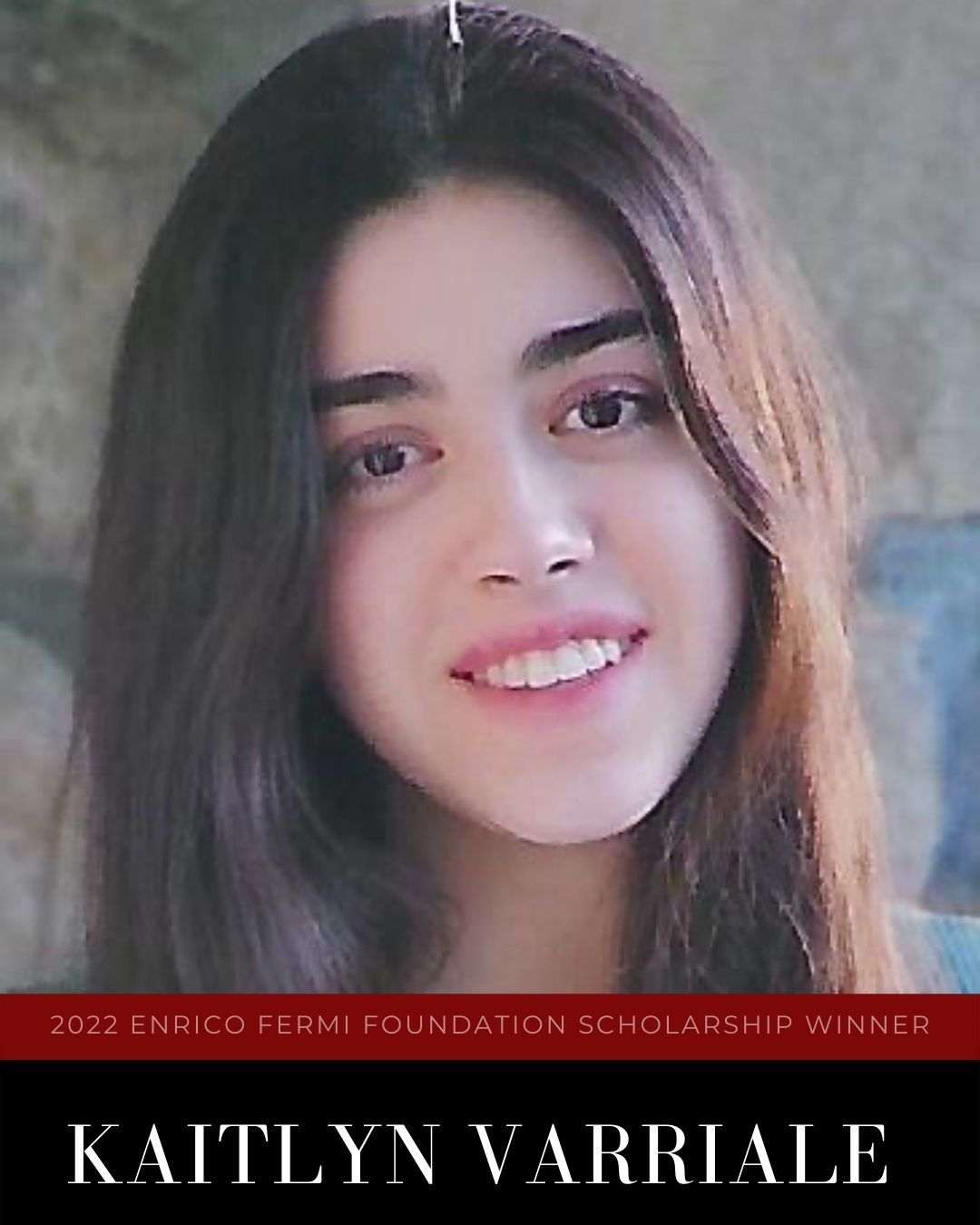 Kaitlyn Varriale is a graduating senior from John Jay High School. She is the daughter of David and Krystin Varriale. Kaitlyn is the Class of 2022 Valedictorian, an AP Scholar, and a National Merit Commended Scholar. She is the recipient of the Rensselaer Award and the Brown University Book Award. Kaitlyn works incredibly hard and is always ready to take the leadership role in group work. She is a leader by example and doesn't let setbacks slow her down. Kaitlyn has been involved in JJHS Humanities Honors Research, the Right Care Alliance, Type 1 Diabetes Support Groups, the KLSD Equity and Racial Justice Committee, and a community-based Biden and Harris Campaign and Administration Support Group. Kaitlyn is proficient in Spanish and enjoys playing volleyball. Despite the delicious food and enthralling towns of Italy, Kaitlyn's Italian heritage has most influenced her life and goals in fueling her drive to succeed. Like her Italian ancestors who left behind what was comfortable to them in search of better lives in America, Kaitlyn can venture out into the world full of support and motivation to conquer whatever comes her way. She aspires to help make the world a better place for future generations as she pursues a career in Health Care.
Breakfast Guest Speaker | Gabrielle Contestabile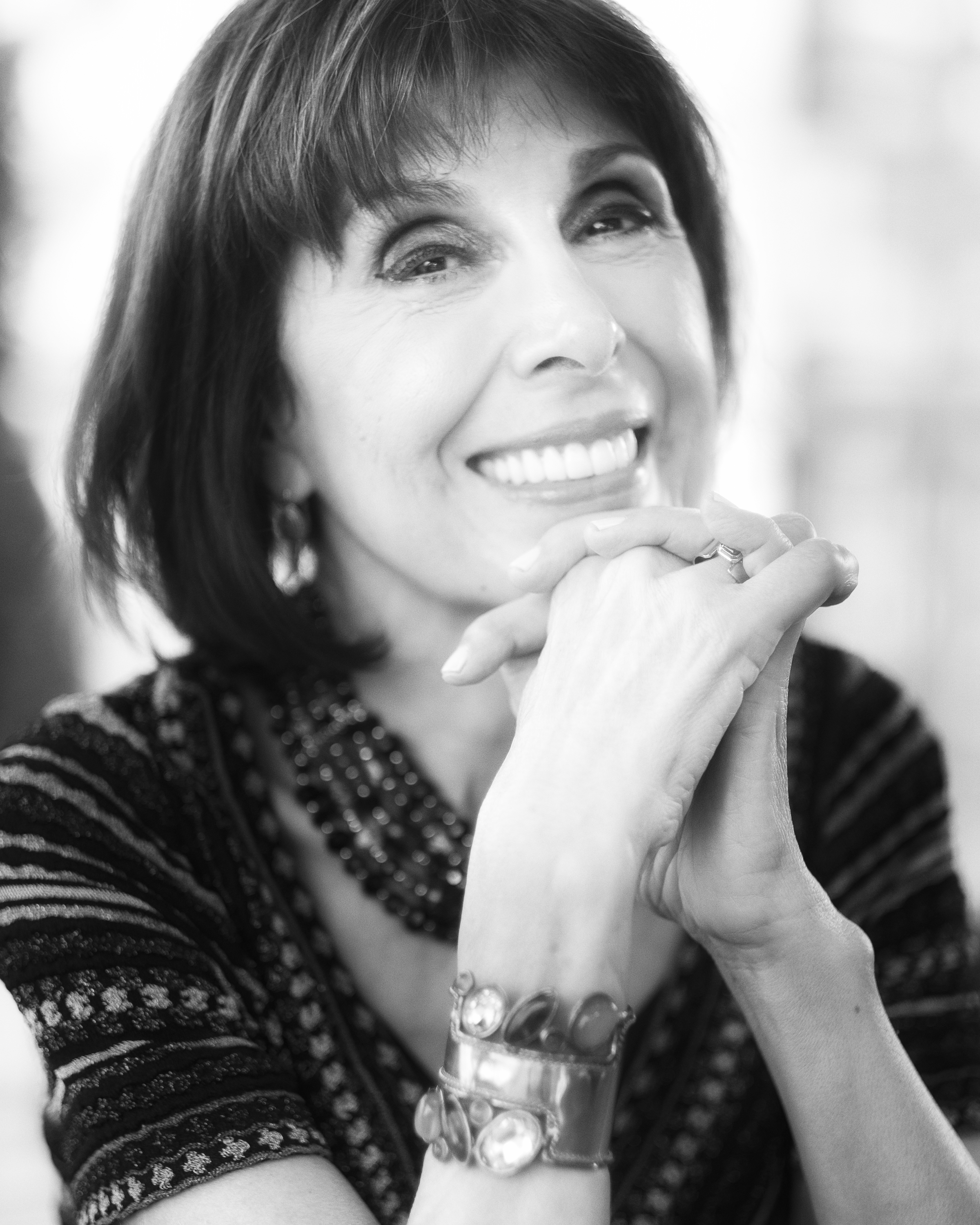 Gabriella Contestabile is the author of 'Sass, Smarts, and Stilettos-How Italian Women Make the Ordinary Extraordinary', and 'The Artisan's Star'. She is also the founder of Su Misura Journeys, a boutique travel concept for the traveler who relishes off the beaten track adventures that celebrate the Italian way of life.

This book/travel initiative has its roots in her pre-writer life as a foreign language teacher and later as Executive Director and Vice President of International Training in global companies including Estee Lauder, Shiseido, Elizabeth Arden, and Prada Beauty, where she created immersive learning experiences in unique settings around the world.

Its deepest roots, however, are grounded in her Italian heritage, in life lessons from her parents and the voices of her ancestors. She finds material across the entire range of Italian contributions in art, architecture, artisanship, fashion, science, education, medicine, theater, film, culinary arts. The list is long because Italians make art of everything they touch.

Gabriella was born in Italy and raised in Canada and New York City where she currently lives with her husband who is also an advocate of Italian language and culture. She believes the Enrico Fermi Educational Fund of Yonkers will continue to tell Italian stories through the younger voices and accomplishments of each year's scholarship recipients.

One of her favorite pastimes, wherever she is in the world, is to scout out the most Italian espresso and gelato in the hood. Both require multiple tastings but, as she says, 'that's the idea.'